Master Del Pe
Modern Sage and Life Mentor

Master Del Pe, known as a world renowned life mentor and modern sage, integrates the best of Eastern Wisdom and Western Practicality. His teachings bring to people a "heaven on earth" lifestyle and a breakthrough concept: "Fly with 2 wings - spiritual and material" to live your greatest life and be totally fulfilled.

Founder of more than 15 corporate and not-for-profit organizations internationally, Master Del Pe has studied world cultures, world philosophies and world religions and lived in many countries before he settled down as an entrepreneur in Houston, Texas, USA.

He was raised in Asia of a Chinese-Filipino descent and educated by the European missionaries until he became an engineer. He studied many martial arts forms and mastered Japanese Karate. He also became an international expert on the 12 styles of meditation, the 8 types of yoga and energy medicine which qualified him to publish the book, Hidden Dangers of Meditation and Yoga.

The most special training that made him who he is today is his mentoring by 4 advanced masters, 2 from the Himalayas and 2 from Asia. He studied books of Theosophy deeply and the works of Alice Bailey which came from the teachings of a Tibetan Holy Sage, Djwhal Khul. These teachings were the foundation of his world-wide research of more advanced universal truths. He has travelled to more than 76 countries, teaching over 85,000 people and validating his new philosophy of success, fulfillment and life balance.

Master Del Pe has the propensity to write books, as well as the ability to teach and train people fast and duplicate himself internationally with his trainers and life coaches. His talent to translate abstract principles into concrete day-to-day solutions to life's problems has helped him to create over 50 educational curricula and corporate programs. One of his best-selling programs is the Wisdom MBA, where executives are trained not only to manage their businesses but to lead in life.

The breakthrough came with his well ScienceTM energy healing system which has 12 specializations, including the healing of HIV/AIDS, Cancer and Diabetes.

Master Del Pe has received many awards, both academic and corporate. He was the Toastmasters' International World Champion of Public Speaking and is in the Toastmasters' 1989 Hall of Fame. He has been a Martial Arts champion in the open Invitational Tournament for a few years in the Middle East. In 2008, Master Del Pe received a lifetime achievement award from the Academy of Global Business Advancement, Hannover University in Germany, Texas A&M University and New York Institute of Technology. In 2009, he was conferred the International Professor Award during the UN Millennium Development Convention hosted by the Szent Istvan University, Hungary.

He is known for his visionary leadership and his enlightened ways of service as a life mentor to many top executives and leaders. His clients include many of the top fortune 400 companies, such as Sony, Colgate-Palmolive, IBM, oil companies and also many not-for-profit organizations.

His international experience as a speaker, healer, spiritual teacher and master of energy science made him a prolific author of 8 books, of which, 5 have been already published: Inner Powers to Maximize Your Performance, From Success to Fulfillment, Hidden Dangers of Meditation and Yoga, 8 Types of Leaders Every Leader Should Know and The Third Eye: A Universal Secret Revealed. To support the daily practice and applications of Master Del Pe's teachings, he has also designed and published several CDs and DVDs on guided meditations and martial arts-yoga exercises.

He considers himself lucky to do whatever he loves doing: serving the needy, healing the sick, training advanced souls on spirituality and mentoring leaders of leaders.

Master Del Pe is an alloy of many specializations and a teacher of them, but he still declares that he will always be a student in the school of life and a server in the path of evolution. He travels extensively, taking an average of 90 flights a year, but still finds the time to climb sacred mountains and discover new holy places on earth where tourists don't normally go. He does scuba diving in the most beautiful reefs on earth – the Red Sea in Egypt, the Great Barrier Reef of Australia and the Galapagos islands in Ecuador.

Master Del Pe founded his company BElifeTM for the corporate side of his mission and MDP Foundation for his not-for-profit mission. He inspires groups to put up their own Healing and Meditation Centers and Centers of Transformation. His projects in universities include the Wisdom MBA non-degree program and creating Centers of Transformational Leadership in universities through collaborative efforts.

All in all, he wants to be known as the one who teaches people to "master a life ahead of its time".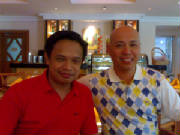 Acquaintance With Master Del Pe
I've met Master Del Pe in a breakfast meeting last January 8, 2007 together with some esoteric people including former actress Elizabeth Oropesa and Crystal book author Riza Regis. We've shared our views with regards to spiritual enlightenment and Del Pe shared his knowledge about what he learned from the Masters in the Himalayas. January 10, 2007 I attended his seminar about the Spiritual and Material Benefits of Human's Sexuality, how to safely control the kundalini and use it in a fruitful way that could shape a good fortune.
For more information about Master Del Pe's teachings and his visions,