The Power of the Guardian Diamond Crystal


Misteryo Main | The GD Crystals | Bible and Lost Gospels | Bible and Paranormal | Religion and Paranormal | Paranormal History | UFOs, ETs | Extraterrestrial Messages | Crops Circles | Conspiracy, Modern Tech | Bermuda Triangle | Hollow Earth, Ancient | Ghost, Orbs, Spirits | Angels, Guides | Synchronicity, Archetypes | Psychic Powers | Meditation, Healing | Astral, Dreams, Near Death | Soulmates, Reincarnation | Prophecy | Mystical Philippines | Strange News | Mythology, Folklore | Tarot Card Psychic Readings | Zodiac, Fengshui, Horoscopes | Photo Gallery | Video Gallery | Misteryo sa YOU Tube | Mystery Hoaxes | Misteryo sa DZRH | Misteryo sa TV | Misteryo sa Balita | Jimmy Licauco | Master Del Pe | Bibliography | About Rey T. Sibayan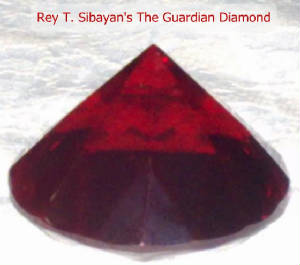 The Birth of the Guardian Diamond Crystals:
January 8, 2009 - Rey T. Sibayan started channeling the Universal Energy to Guardian Diamonds. Instantly, a knowledge to program and energize the Guardian Diamonds has been channeled. It is an answer to a special request to create a powerful tool to scan and destroy (at once) the negative energies (thoughts, emotions, entities/spirits) eventually creating a protective shield and maintain a harmonious energy within its range.
The Power to Destroy:
The Guardian Diamonds are programmed to create a powerful magnetic energy to cleanse an area from Negative Energies and Forces like dark shadows, bad spirits, demons and black dwarves and convert the negative energies into positive to create a protective shield and harmony. I did some series of field testing with the assistance of some clairvoyants, psychics and healers to prove how strong the power of the Guardian Diamond is.
The Power of Healing:
The result is far more than what I expect - i thought it is just for cleansing and protecting an area, but it is also powerful tool for healing, exorcism, boosts the positive energy and aids individuals to activate their hidden/dormant psychic abilities and their spiritual connection to the Creator. Thanks to GOD, angels and other Higher Beings for the manifestation of Guardian Diamonds to destroy negative forces/bad spirits. Negative forces/bad spirits are the REAL CUPRITS of mutating viruses/diseases, violence, crime, anger, and other problems on the whole planet. By eliminating the Negative Force, we are creating a Reality of Life filled with Love, Peace, and Free from Diseases.
The Power of Attraction:
It is proven by many people especially businessmen that the Guardian Diamonds increase their profit and attracted more clients boosting their sales. More about the Guardian Diamond
http://misteryo.multiply.com/journal/item/53/Misteryo_The_Guardians
For Inquiries: Call/Text 09081217808/09179076847
Testimonials with the Guardian Diamond (GD) Crystals
The Guardian Diamond Crystal
532.00PHP
Testimonies About the Guardian Diamonds

Prof. Jaime T. Licauco (Paranormal Expert, Guru, Author):

Jojo Abojadie (Pasay City): "I've been suffering from back pains for so many years. But when I use a Guardian Diamond, I've experienced it's Healing Power. Thanks, I have no back pains now. More power to you Ka Rey and to DZRH."

Au Generoso (Infanta, Quezon): "Mula nun ginamit ko yung Guardian maliit nga lang siya pero malaki na naitulong sa mga naging pasyente ko (February 25, 2009)."

Jacinto Arzaga (San Pablo Laguna and Novaliches): "Malaki pagbabago sa office namin mula ng ilagay ko Guardian Diamond sa office table ko. Wala pa nagsagutan mula noon yun niregaluhan ko ang bagong kasal effective daw yun. Naramdaman nila na masakit na muscle inihaplos daw ay guminhawa. Kung magkaroon ako ng budget ay gusto ko uli bili regalo ko sa mga kaibigan ko."

Nick and Arlene Echon (Villamor Airbase, Pasay City): "Mula ng dumating ang Guardian Diamond sa aming buhay, OK na ang aming maliit ng tindahan. At ng mag-pray kami with the Guardian Diamond para sa Visa ng aming anak na matagal na niyang hinihintay, after one week dumating na."

Mench Quitangon (San Pedro, Laguna): "HI Sir Sibayan, share ko lang yung na experience ng anak ko nung hinawakan nya yung guardian. Yung mga fingers nya kasi sa right hand nya parang me arthritis din katulad nung ke Ma'am Lulu Rivera, na lumalagatok pag ginagalaw nya at masakit daw. Nung hinawakan lang nya yung guardian after a few minutes, na gagalaw na daw nya mga fingers nya ng walang sakit at hindi na din lumalagutok. Hindi nga naniniwala yun nung una sa guardian pero nung sinubukan nyang hawakan, e ayun nawala daw ang sakit hanggang ngayon nagagalaw na nya ng maayos ang mga daliri nya. Magaling din magpa alis ng mga migrane ang guardian. Kasi nasubukan ko na ito, nilagay ko lang sya sa me ulo ko at pagkatapos ng ilang minuto nawawala ang migrane ko. Imbis na iinom ako ng pain reliever, yung guardian na lang ang ginagamit ko, ang galing di ba."

Visit the following locations below to avail your Guardian Diamond Crystals:

DzRH MBC Building beside Aliw Theater near Star City along Sotto st., CCP Complex, Pasay City 1307. Call/Text 09081217808/09179076847. Look for REY T. SIBAYAN

Nutrition Foundation of the Philippines Building #107 E. Rodriguez Ave. near cor Araneta Ave., across of Quezon Institute (QI) near PCSO Main Office, Quezon City. Look for LULU S. RIVERA. Call: (+632) 411-1349; (+632) 742-0826; (+632) 742-7866; 4967065. Text: (+63) 09208577215

#Unit 21 Business Center, 4th floor, Star Mall, Alabang, Muntinlupa City (Limited stocks only, please call Ma'am Lulu Rivera first)

#3110 EMG Bldg. Redemptorist Road, Baclaran, Paranaque City. Call: 514-4940 Text/Call: 0920-9196992 (Malou Sun); 0908-6301348 (Bro. Emil). (limited stocks please inquire first)